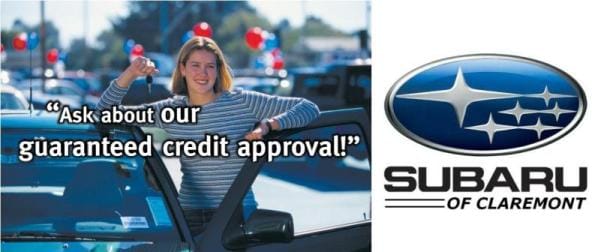 Guaranteed Credit Approval


Subaru of Claremont is pleased offer the Guaranteed Credit Approval through Credit Acceptance. Regardless of past credit experience, we can get you approved! Bad credit, no credit, divorce, repossession, foreclosure... NO PROBLEM!! Credit Acceptance will give you a real credit approval that with good, on-time payment can help you get your credit established or re-established. Credit Acceptance reports to all three major credit bureaus to ensure that you get the credit for your on-time payments. This is not Buy-Here-Pay-Here, but a real credit approval with a national lender!
Program Minimum Requirements:
Minimum $800/month verifiable income. (Self-employment, Social Security, Disability, Alimony, Child Support income OKAY!)

Verifiable Place of Residence

5 references (Friends, family)

$500 minimum down payment (Cash or trade)
Give us a call at (888) 690-1261 to speak confidentially with one of our finance specialists or click the Pre-Approval link to get your application started now!